What are the best oral sex positions?
The act of oral sex produces sensations throughout your partner's body that not only bring you closer to each other but also increase the feelings of sexual pleasure.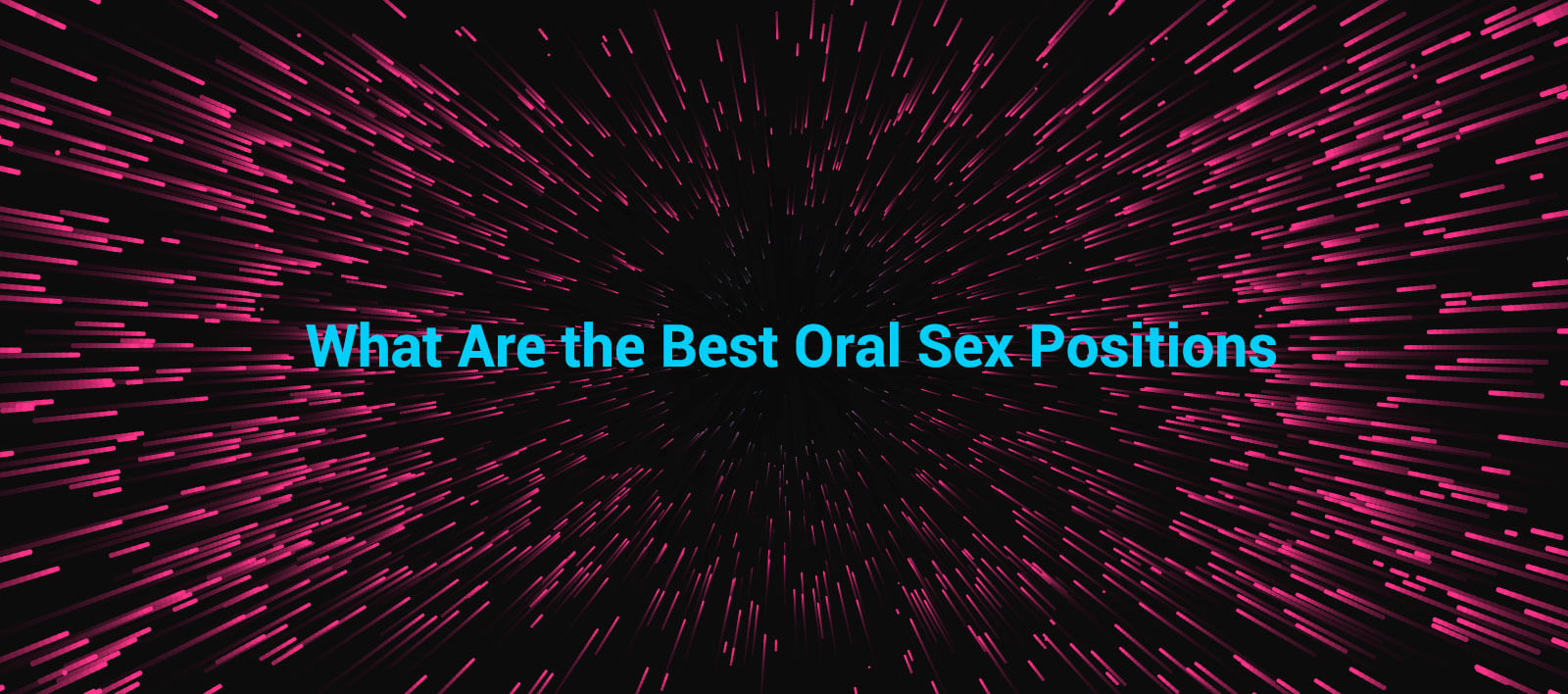 There are some positions that ease the job.
receiver standing - giver on knees
receiver sleeping - giver leaning over him.
Giver sleeping on back and receiver on his chest
giver sleeping on the edge of bed with his head hanging - receiver standing and inserting his tool till throat
If a woman struggles to get into an orgasmic state of mind during oral sex, the Deep V and the extreme exposure it provides is a great option. Fix the woman's legs in a V-shape, holding the thighs wide open for full access to her ruby pearl. Let your fingers do the "talking," and for a scream-inducing climax, don't forget to supercharge your touch with a buzzalicious finger vibrator.
Place your lover on the orgasmic throne, and be prepared to worship her as she takes command of her erotic powers and control over every sinful sensation. Boost the arousal with exquisite nipple or breast play using perky sex toys that will make her the Empress of O-Land.
Sideways 69 is the best oral sex positions
In the Almost-69 For Him oral sex position, he's receiving a blowjob in the same position as 69, but without having to reciprocate. Very hot!
How To Do It
Both partners lie on their sides as though they were about to assume the side-by-side 69 sex position, with each partner facing the other's feet. The female partner will proceed to give him oral sex, and while he is in the position to do the same for her, he doesn't. He simply relaxes and enjoys what she's doing to him!
Where To Do It
The Almost-69 For Him oral sex position can be done in a variety of places, especially narrow ones like the backseat of a car. Since both partners are lying side by side, not as much space is required. Use your imagination here!
Props You'll Need
None.
Her O-Meter - 1
The Almost-69 For Him oral sex position is comfortable for her, but she may just wish he would go down on her at the same time and turn it into a regular 69!
His O-Meter - 4
While he does enjoy regular 69, the idea of using the Almost-69 For Him oral sex position is a bonus for him because he gets to concentrate on his own pleasure instead of trying to split his concentration between receiving pleasure and giving her oral sex at the same time.
XXX Tip
If he wants her to get more out of the Almost-69 For Him oral sex position, he can easily use his fingers to stimulate her clitoris, her g-spot or even her anus if she likes anal play
So if you're looking to add a new dimension of intimacy into your sex life, below are some oral sex positions that can level up your game:
The Venus Fly Trap
The Venus Fly Trap position is perfect for exploring of your own hot spots while pleasing your man. To perform this creative position, lie on your back with your head off the edge of the bed. Let your head and neck relax as you are looking towards the opposite wall. Then, allow your man to start thrusting his jewel in and out of your mouth while standing or kneeling. This position also allows your man to stimulate you by massaging your breasts or inserting his finger inside you. Also, you can make your man wear Manforce flavored condoms for a flavorsome experience.
Sideways 69  -  the best oral sex positions
The classic 69 position allows you and your partner to give and receive the pleasure of oral sex simultaneously. You can turn this original position into a sensual wonderland by doing it sideways. Start off with you and partner lying sideways, facing the opposite way, with your mouths licking each other's genitals. You should place your one leg over the shoulder of your partner for stimulation. Besides, you can also enhance the stimulation with the help of sex toys.
The Throne
In order to make your partner feel like a king or queen, make him/her sit on a chair with legs apart. Now go down in front of your partner. As a man, hold your woman's legs while licking and sucking her pulpy fruit. And as a woman, you can use your hands and mouth to enhance the pleasure. In addition to this, let your man take control from time to time as he can guide your head movements according to his erection.